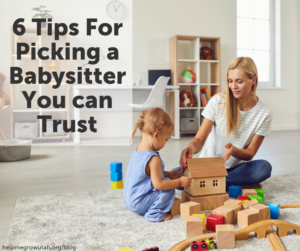 Now and then, my parents would hire a babysitter so they could go out on a date. I remember having different types of babysitters growing up; some were better than others! One of my favorites brought super fun games and was wonderful at playing with us. Unfortunately, some people are not to be trusted as babysitters. Keeping open communication with your children surrounding babysitters is key. Here are some tips to ensure you find the most qualified person to watch your child. 
Use a site such as

Care.com

that has a background check required for everyone listed as a sitter. This can give you some peace of mind knowing that your babysitter was cleared to be around children. 

Another option is to go by word of mouth! If you have friends who are parents and consistently use the same babysitter for their children, ask for their babysitter's contact information. It's a safe bet that they will be a great babysitter for your family. 

Ask yourself if they have the qualities and babysitting skills listed by the

Red Cross

. These include character traits such as honesty and trustworthiness, as well as if they have a first aid certification or have taken a babysitting class.

Possibly invite the sitter over for a trial "play date" with your kid while you stay home. This can help you know if the sitter you have selected is a good match for your child, while still having you close by. You can work from your at-home office or make dinner while listening to how they get along. 

Inform your babysitter of house rules and leave your contact information in case they have questions. The more information you leave with your sitter, the more equipped they will be to meet your child's needs. Also, don't be shy to call home and check on the kids and babysitter throughout the night. A check-in can help with any potential problems the babysitter may run into, such as a fussy baby!

When you leave for the night it's common for your child to protest your departure, but pay attention to how your child is feeling when you return home for the night. Depending on their age or personality they may give you more insight when you ask questions about their time with the babysitter.
Nearly every parent runs into a situation where they need to call a babysitter, and it's ideal to find someone with similar values whom your kid will get along with. Hopefully, these tips can give you confidence in choosing the best babysitter for your family.