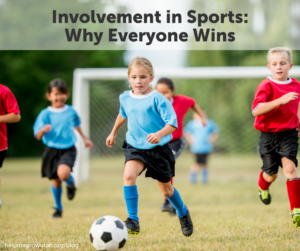 Nationally every year, on the first Wednesday of February, the United States celebrates 'Girls and Women in Sports Day.' This holiday was first observed in 1987 to honor the greatest female volleyball player of her time, Flo Hyman, who worked tirelessly to create equity in sports. Although she died of a genetic disorder while playing in Japan, her legacy lives on. Title IX was a public law passed in 1972 that required equal opportunity for both men and women in sports at public schools. Before this legislation change, only 1 in 27 girls could participate in sports. Today, we celebrate the impact that female athletes have had, and the benefits of including women in sports. With women like Serena Williams, Simone Biles, and Lindsey Vonn leading the pack, women have proven that they deserve a place in the athletic spotlight.
But what's the big deal about playing sports? Parents everywhere have the opportunity to positively impact their child's social, emotional, mental, and physical health, as well as their educational and career success, by involving their children in sports!
In the social skills category, children are more likely to understand and utilize teamwork, to build friendships with teammates and relationships with role models, and become better communicators in general. Their exposure to many kids through sporting events helps them to celebrate differences and see the good in everyone.
Emotionally, sports can help to develop confidence, build a strong support network, foster respect for others and themselves, as well as lower the rates of anxiety and depression. Athletes involved in sports must learn to cope with setbacks or losses and remain optimistic. Research has proven that overall mental health improves while playing sports, and increases life satisfaction as a whole.
Participation in sports also has a large impact physically on a growing and developing child. Sports have been proven to increase cardiovascular fitness, facilitate healthy bone and muscle growth, and improve coordination and balance. A child's risk of diabetes and obesity decreases, and importantly, a habit is formed that helps to encourage the child to be physically active throughout their life.
The unique set-up of sports also gives children an opportunity to practice time management, goal-setting, and problem-solving skills. A child's memory and concentration can increase as they spend time in practice and games every week, and sports will inspire creativity through playmaking and trial and error. Interestingly enough, high school athletes are more likely to attend and graduate from a four-year college!
From little league baseball to YMCA gymnastics classes, you can help your child to find something they are passionate about. Sports can become a positive and joyous outlet for your children and a great way to spend your free time!