I'm on my hands and knees cleaning up my two-year-old's toys. I ask him to help clean up. His response? NO! 
It can be hard to know what to expect your child to do as they grow. The balance often involves including them in ways that make them feel like a valued member of the family while also teaching them skills that will build confidence and independence. Below I'll break down what responsibilities you can request of your child based on general developmentally ready ages, how to implement family chores and share affordable reward systems the whole family will enjoy.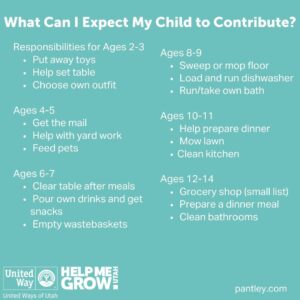 What other skills could you add to this list?
Ways to Implement Family Chores
Break down the chore.

Rather than saying, "Pick up your toys!" Get down at their level and pick up a toy and put it in the toy box. Then ask them to pick one up and put it in the toy box. Your involvement will make the greatest difference, especially when starting out.

Dance while you work.

Is there a family favorite song you can turn on? Playing music while cleaning infuses energy and joy. Check out

this song

by Daniel Tiger for younger children. 

Let chores grow with your child.

An idea from

PBS Kids

was to give your child an additional chore for each year old they are. For example, your six year old will have six chores. 
Rewards within Reason
It's easy to get caught up in costly reward systems. If you're interested in rewarding chores and good behavior with cheap or free items, here are some ideas.
Praise.

"I appreciate your help picking up before dinner." Offer them a high five! 

Activity.

Change it up and offer an indoor picnic or reading before bed under the covers with a flashlight, or simply offer a book before bedtime.

Tickets or stickers.

Allow your child to earn a trip to the thrift or used book store to pick out a small treasure. Reading together is always a great way to promote closeness and your child's learning. 

Crafts with you.

There are so many

simple craft ideas

. Create a tote that holds your craft items. Pull it out and have some fun with your child. 
As I've involved my son in responsibility I've learned that he was ready months before I started involving him. Having expectations promotes opportunities to contribute and feel confident. The key was consistency in my expectations for him and teaching with love. No matter how many times a day he tells me "no," I know that he is learning to trust me as I approach him with patience and confidence.